_____________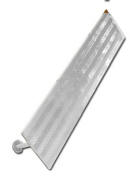 Bookmark this page, Control + D in most browsers.
Secure Transactions
Major credit cards, debit cards, or a PayPal account
Dealers, Sales Companies, & Distributors, please inquire...
Patented Products Precision Made in America - Quality at Low, Affordable Prices

BBB Rating is A+ - Click BBB Logo for accreditation:

REFLECTIVE SIGN POST PANELS
Buy products direct from the manufacturer - save time and money - delivered right to your door
Order and pay by major credit card, debit card, as an option
Products Precision Made in America...
REFLECTIVE SIGN POST PANELS
fit U-CHANNEL and UNISTRUT Type Posts
MULTIPLE reflective panels can be applied to a single sign post for greater emphasis
3" X 16" Quick Connect REFLECTIVE SIGN POST PANELS in the colors that you need
Mount AMP REFLECTIVE Sign Post Panels directly to your sign post and increase the effectiveness of your traffic sign for both day and night. Complete with pre-attached stems and fixation nuts. Post panels are 3" X 16", come in all standard high intensity and Diamond Grade 3M Reflective film. COLORS Available:

Yellow

Red

Orange

Blue

White

Fluorescent Yellow-Green

Use REFLECTIVE Sign Post Panels to IDENTIFY, HIGHLIGHT, and REINFORCE your sign's message to motorists. Apply these quick connect and cost effective sign post add-ons to:

Stop signs
DO NOT ENTER signs
Crosswalks
Exit signs
Yield signs
Dangerous turns or intersection signs
Other signs





AMP REFLECTIVE Sign Post Panels


REFLECTIVE sign post panels
increase sign effectiveness day or night.

REFLECTIVE sign post panels
GET ATTENTION!

Quick Connect 1-2-3...

1. Remove nuts, 2. Insert the panel, 3. Attach nuts



American Molded Plastic, Inc., is a long-standing, experienced, American manufacturer of custom injection molded products, and provides prototype molds, tool and mold designs, and efficient manufacturing and delivery to specification.
Questions? Low cost pricing? Call us for info...scroll down for contact info...